China Pictures (Shanghai - 上海) (Sunday 2005-04-17/18)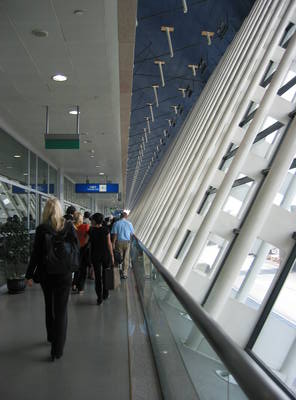 Brand new Pudong airport. If I'm correct, we didn't enter through that one last time. (Pudong means "East Bank")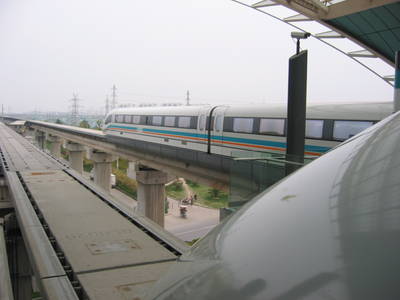 The Magnetic Train between the airport and Pudong, or actually to a subway line towards the southwest of Pudong proper. There is actually not much near the station, I believe it's still farmland. But I give it 5 years, and you'll have a little suburb near it. The Maglev is of German design, and the only other Maglev I know of is in Nagoya, Japan, near the World Expo 2005 site. The Shanghai one is more "useful", as it isn't a sort of intracity monorail that stops at every station (spaced out like, um, metro stations), but which really goes the speed it was designed to run at (400-500kph).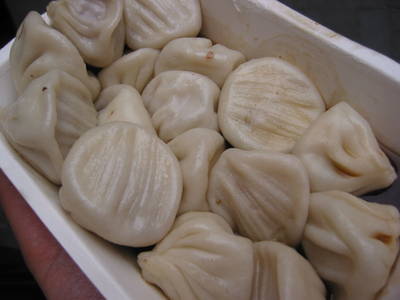 They don't look so delicious like this, but since 2002, I've been craving for a big cheap bowl of these things. B/c in Montreal they charge you 5CAD for 4 of those (without the soup inside), and in HK, I think it's only about half the price... But in Shanghai, even in a tourist place, it's 8 freaking renminbi for 16 of them (that's about 1.20CAD)! The restaurant's (a counter too - and expect to wait 30 minutes at least) called "Nanxiang" in the "Old Town God's Temple" tourist spot.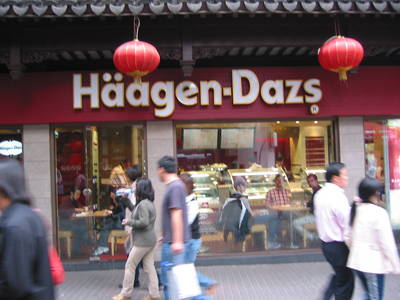 Of course, Western food chains are everywhere...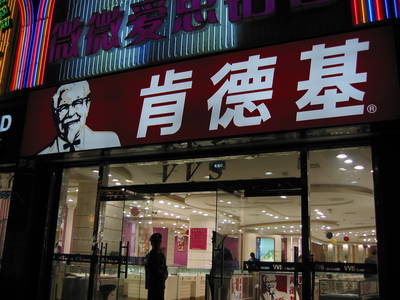 Kentucky Fried Chicken is even more ubiquitous... And a success in China, including HK. It must be because of fried chicken and some sort of Chinese connection. They've rolls made with fried chicken, shallots and "hoi sin" sauce which taste just like like Peking Duck. :D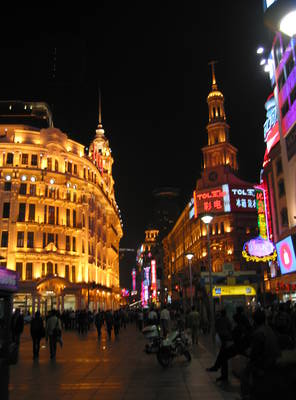 Nanjing Road (南京路) is probably the most famous commercial street of the city.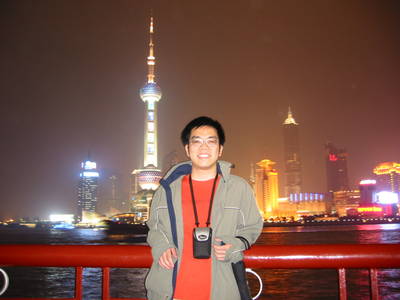 Me on the Bund with illuminated skycrapers of Pudong on the background.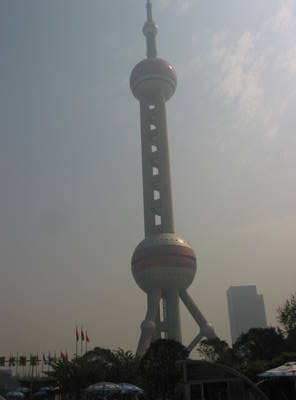 The following morning, a photo of the Oriental Pearl Tower in Pudong.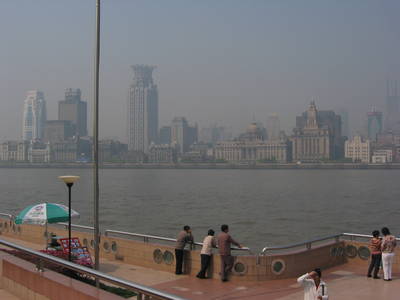 Each tour guide (and book on Shanghai) will tell you that what started Shanghai off was its past as merchant port dominated by Western powers seeking to get a piece of China. "The Bund" is the name given to the West bank of the Hangpu river which runs through Shanghai where many big companies, etc, established their quarters. It's really one of the most cool places to visit in Shanghai (they gave us 20 minutes, and I used 15 of those to change my USD to RMB >_>). There are surely a lot of things I need to do in Shanghai, and I really dislike the fact that I stayed there for only 1 day... Will try to stay longer if I can find some company to spend that time with, hm.