Hong Kong (Central - 中灣)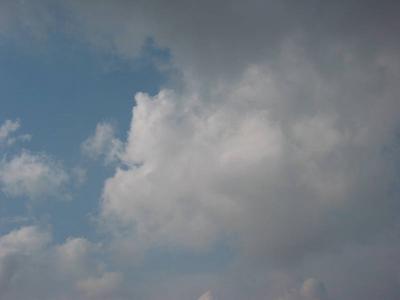 First, a blue sky to show.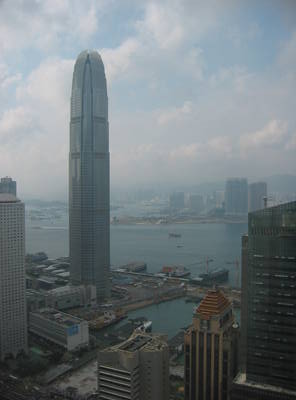 IFC tower number two. Briefly highest building in Asia, but certainly still the highest in HK. Photo snapped from the Bank of China Tower. (pic taken in 2002)

Connaught Road, the expressway on the side of the sea in Central.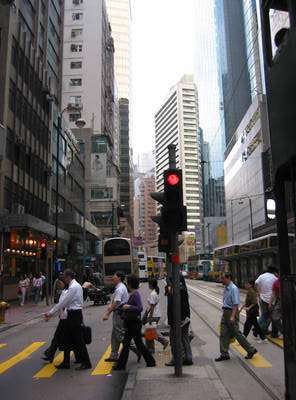 Des Voeux Road Central, where the tramway passes on in Central and on towards the West.
(Rest of today's pics, taken mostly in Central after a tram trip through Wan Chai)
At the ground level, you don't really feel as if the sky was fair. But it is. Or was. It's extremely rare that the sky is clear. I can't remember a clear blue sky in Hong Kong, and I suppose the maritime climate just doesn't allow it.
It was another ordinary day to places I've been to, and some which I've never been to. The IFC tower two wasn't built yet last time I was there. The business tower is off limits, but I walked about the shopping mall, which is made up of brands I can't afford, and sometimes never heard of in Montreal (but I've been enough exposed to designer names throughout my adventures in East Asia).
I missed my objective, Lan Kwai Fong & Soho, by a tram stop. I should've get off at the Super Escalator to Nowhere (aka Pedestrian Escalator to Mid-Levels - sort of outdoors fantasy for [rich people/expats/former colonial leaders] living in Mid-Levels]). So no, I didn't. Soho and Lan Kwai Fong is the posh fun district of Hong Kong. It's conveniently located up the hill from Central, Hong Kong's main (foreign) business district, and heart of times-past colonial power.
Walked to the Bank of China Tower, still a landmark of HK, even after the IFC Two was built (seen from ground level, IFC Two looks like a phallus, I thought, the last time I passed in on the E11 towards Chek Lap Kok, two and a half weeks ago), which has an improvised observatory at the 43rd floor. Then took the 11 at Admiralty, which goes from the Piers in Central to Jardine's Lookout, up in Tai Hang, where my aunt lives. Slept on the bus, something that you can never afford, unless you're in a bus, at the beggining of rush hour (we started at 4:45 in Admiralty, and I woke around 5:15 on Tai Hang Road).
Of course, I miss the people home. And I am terribly confused about my prospects for a job here, or even back home. Finally, there's an examen de conscience to be done, looking-of-oneself-in-da-mirror type of thing. Maybe a summer in Montreal partying? No, actually job hunting in a social context, which is what I can manage.
0 TrackBacks
Listed below are links to blogs that reference this entry: Hong Kong (Central - 中灣).
TrackBack URL for this entry: https://smurfmatic.net/cgi-bin/movabletype/mt-tb.cgi/361