Flashback: Japan (March 25th to April 8th, 2005)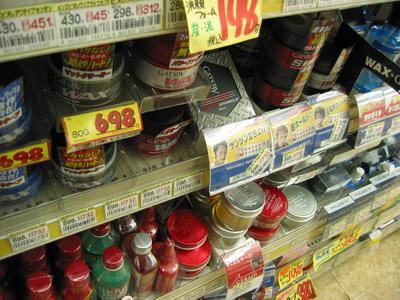 Various hair products of the "Gatsby" brand. I bought two extra bottles in HK...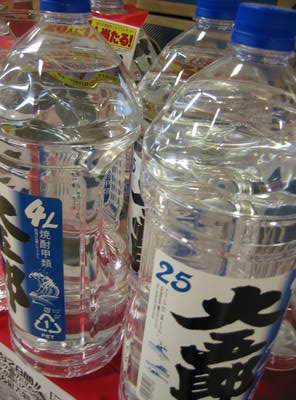 Sake comes in various grades, including "window-washer". (That must've been below 20CAD?)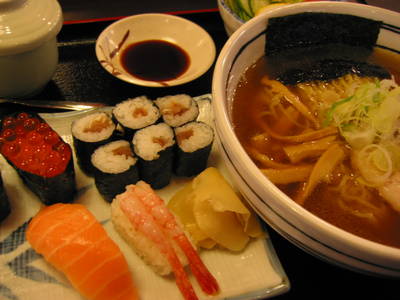 A meal at a "family" restaurant near Murone village in Iwate.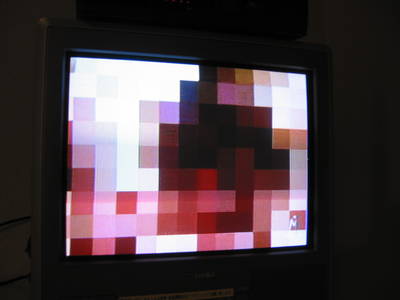 Mystery pic! (First hint: pixelated)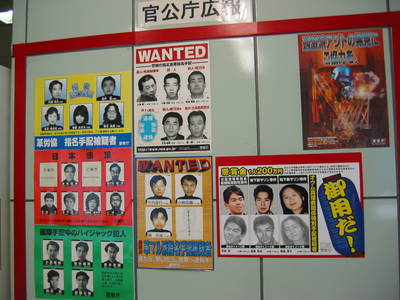 Wanted for pickpocketing. As a measure to curb pickpocketing on public transports, the authorities use "shame-based" incentives.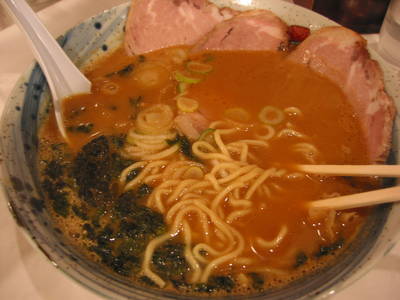 A bowl of ramen noodles, "Hokkaido style", from the Ramen museum in the Shin-Yokohama area.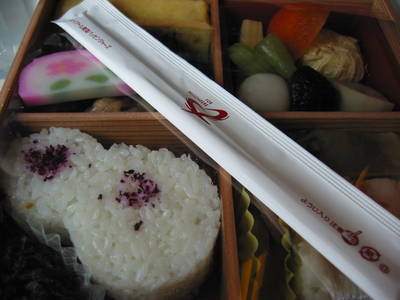 An O-bento bought at Shin-Osaka for about 1000¥ for the lunch on the Shinkansen between Osaka and Hiroshima. A slab of rice, dried/preserved veggies and cooked fish...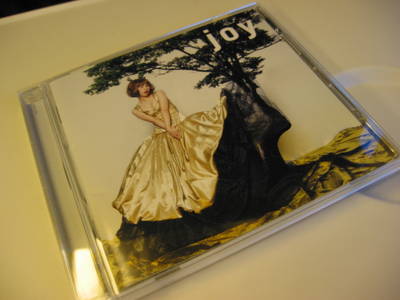 Yuki's Joy album, which came out the month before. I bought it at the music store in Hiroshima's Shinkansen station, and remember it as being what I put in my walkman to quiet the snoring at the various youth hostels I stayed at.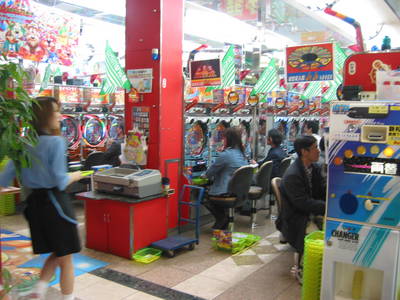 The interior of a pachinko parlor. Pachinko is a sort of hybrid between pinball and slot machines (with the addiction aspect of slots).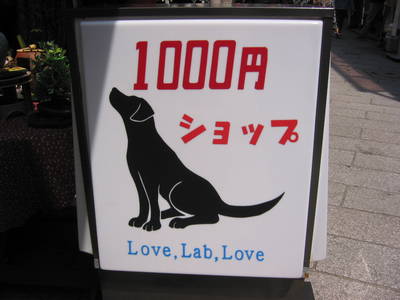 "Love. Lab. Love." Indeed. (For my friends formerly or currently working in labs)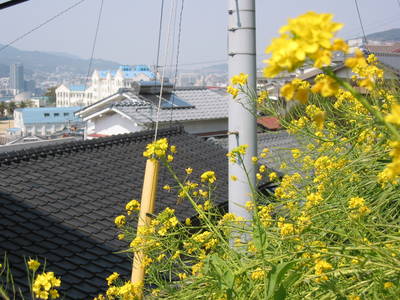 Springtime in Nagasaki, Kyushu.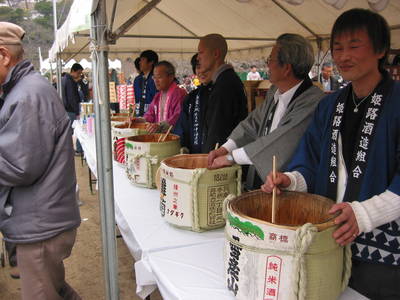 You get yourself a box-shaped glass (traditionally in wood, now in plastic) and line up in front of one of those buckets. Japanese springtime picnics are the greatest.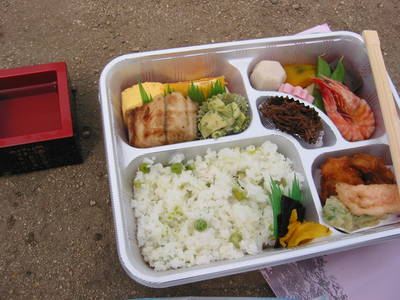 An O-bento at the Himeji castle. I had the chance to hit the yearly O-hanami on the Himeji castle grounds (without the sakuras).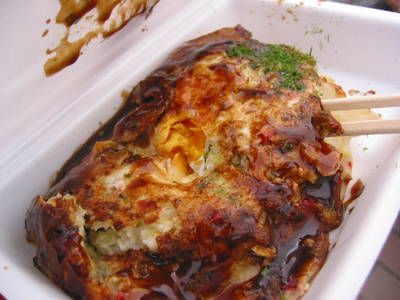 Caught this dietetic bomb on my way back to the Shin station in Himeji, the Okonomiyaki, a sort of pancake that's egg-based with onions, maybe mushrooms, meat, and a few things I don't recognize, sprinkled with bonito flakes and topped with soya sauce...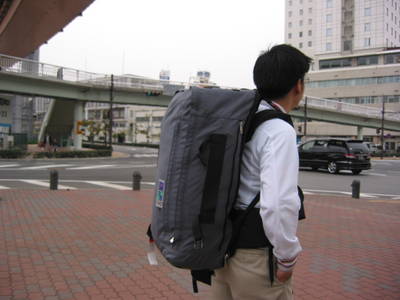 Trip to Japan was seriously hectic. Unlike other half-day stops, where there were lockers to stock things for a few hours, this time in Kobe, I had to walk from one station to the other to see something. And I did Shin-Kobe to Kobe station (which isn't even the most downtown-ish JR station) carrying this stupid bag with me, and forgot to see the Earthquake memorial in the process...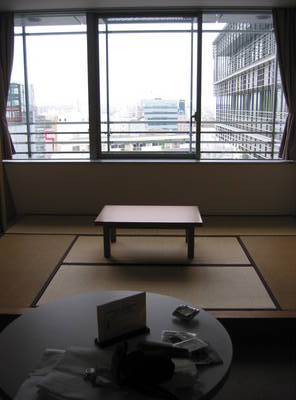 My room (shared with four others - potentially 6 people could fit in one) at the youth hostel near the Shin-Osaka station. Opened last year, and is a bargain at 3300¥/night...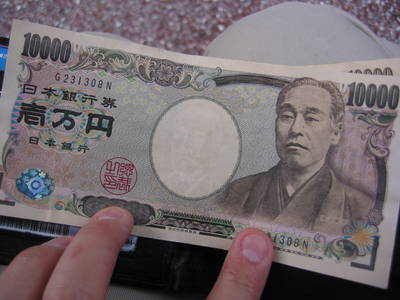 10,000¥. The Japanese Yen is worth less and less Canadian Dollars (it was 76¥/CAD in summer of 2002, 85¥ in April 2005, and now hovering just below 93¥).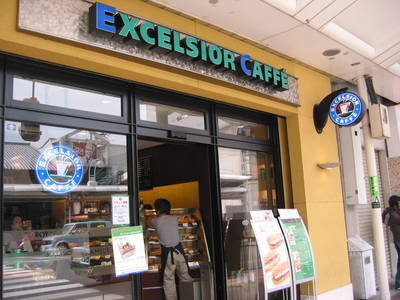 Apparently they got sued by Starbucks Coffee, I wonder why...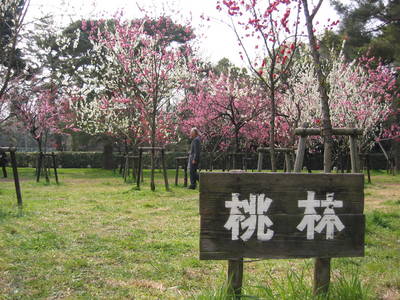 When circulating between the blooming peach trees, you really really hate being by yourself.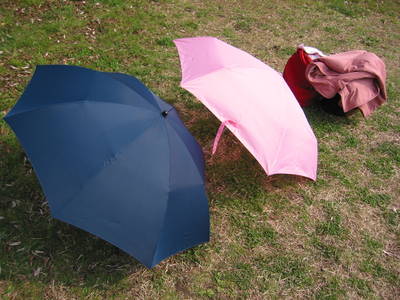 Umbrellas, on a typical cool spring afternoon at the Kyoto Imperial Palace.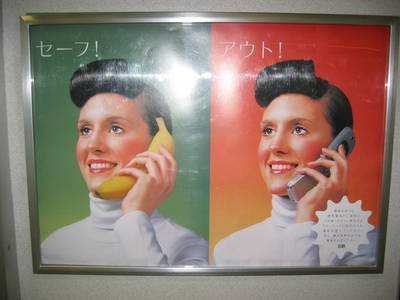 Heh, 'nuff said.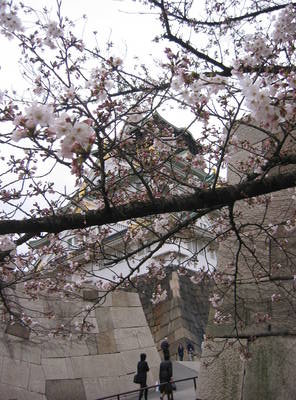 Taken April 4th on my last morning in Osaka. The closest thing I've got of sakura with a Japanese castle background...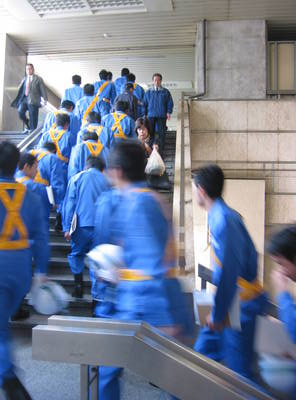 As I went back to the youth hostel to pick up my bag, I bumped into this regiment of men in blue uniforms (what you saw was just the end of the column...).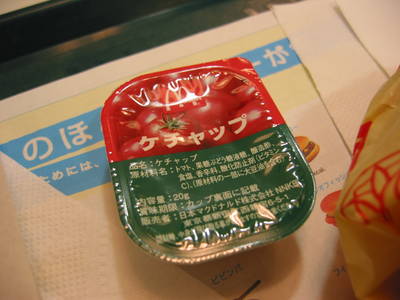 Ketchup at McDonald's.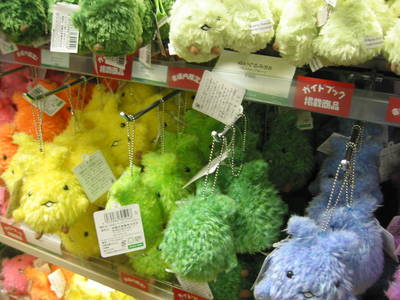 I'm fine with Expo 2005 stuffies...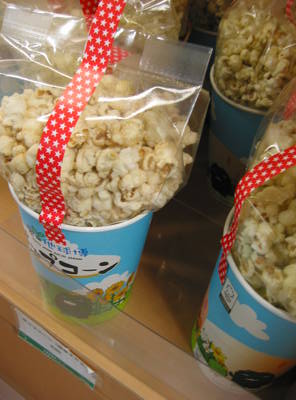 ...but Expo 2005 popcorn?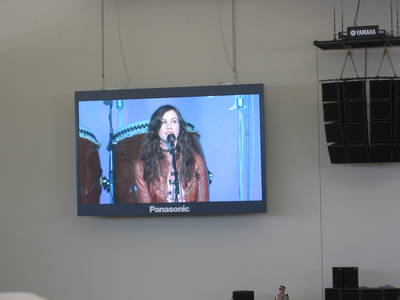 It was Canada Day at the Expo, on April 5th, and besides Corneille, and a few other performers, there was the treat of the day, Ms Alanis Morissette, of Ottawa.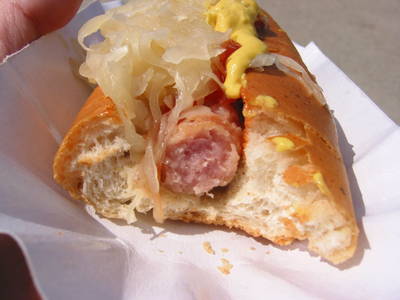 Hot dogs sausages in Japan don't taste like they do in North America... It's either b/c it's closer to the European style, or because it's typically Asian? Typically, they are juicier, and you can still feel the consistency of the meat (cartillage parts, etc), while the North American sausage is just some really uniform "meat".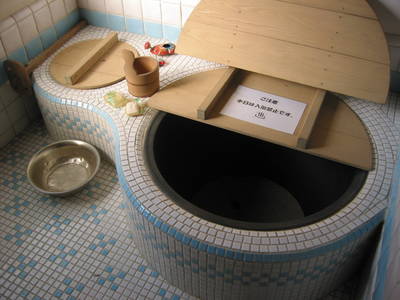 The bathtub in the Satsuki and Mei's House.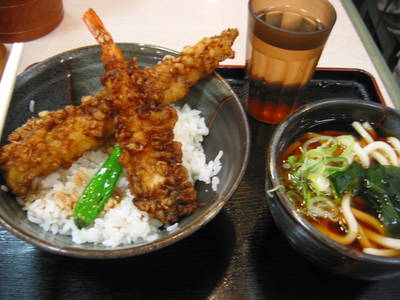 A tempura-don (with Udon in broth on-the-side) ordered at the JR station in Iidabashi, Shinjuku-ku, Tokyo.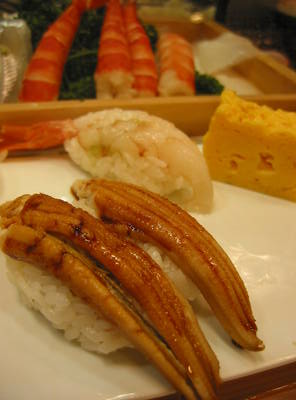 Some delicious sushi from a sushi bar in Akasaka.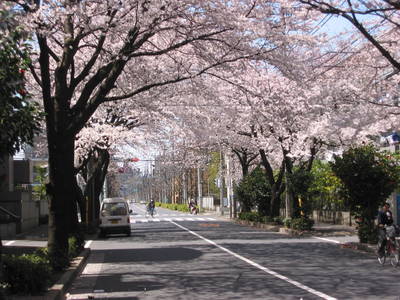 Sakura trees in the quiet Western Tokyo suburb of Mitaka, as I walked down Sakuradori in the wrong direction, and suffering one of the worse allergic reactions to pollen of the whole trip.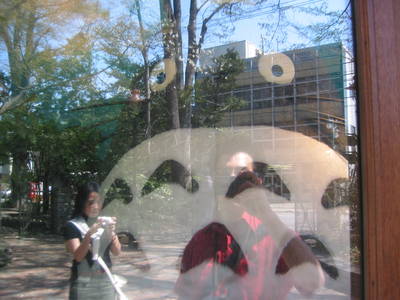 A giant stuffed Totoro guarding the entrance to the Ghibli Museum in Mitaka (the reflexion of some random HK/Cantonese tourist).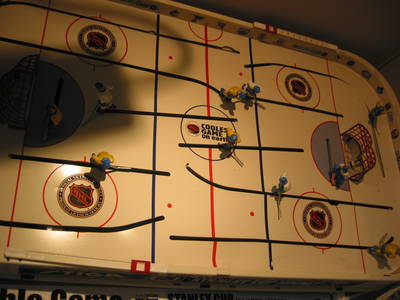 Table hockey found in the Omote-sando branch of toy store Kiddy Land.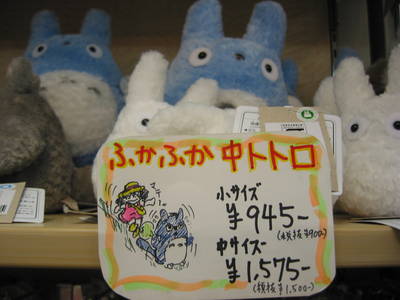 Merchandise from the My Neighbor Totoro cute-cult movie of the early 90s. So expensive... :/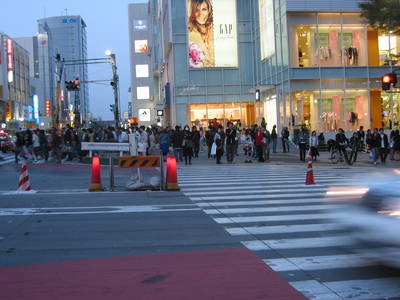 Crossing on the Omote-sando in Harujuku district, complete with a giant screen blasting Top 10 music videos in the back (not shown).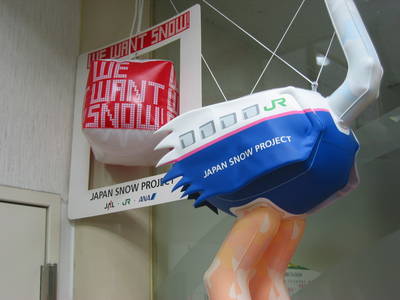 They really don't understand what they're wishing for. -_-;;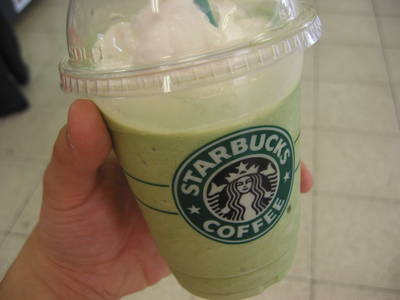 A real Green Tea Frappuccino from Starbucks in Japan.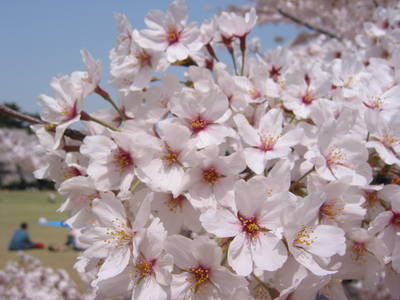 White and predominant variety of sakura.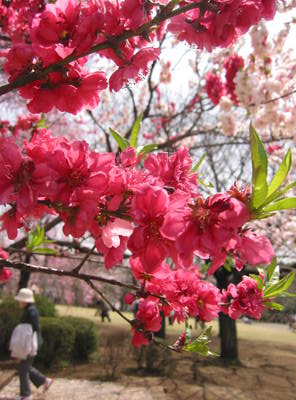 Dark pink-red sakura, somewhat spotted less frequently.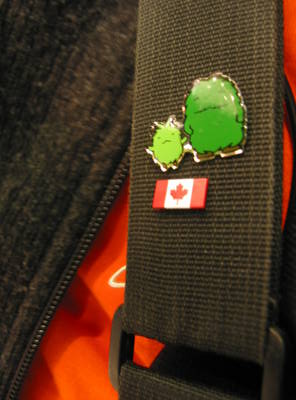 Eventually lost those.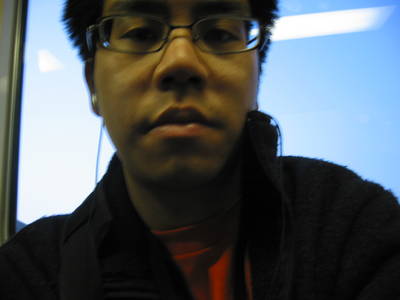 Enough of running around Japan, and gladly Hong Kong, thinks Cedric. It's also terribly lonely, he thinks, but it was only two weeks, what about the four more months to come? Well, it didn't help, did it?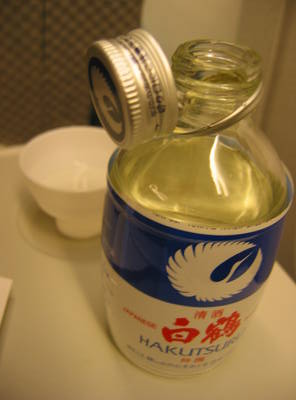 Of course, you got to have sake on a Japanese airline company. it helps to forget, for a while.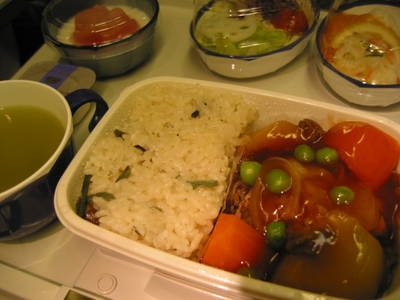 And Chicken Teriyaki to fill up the stomach inthe meanwhile.