Niu Kee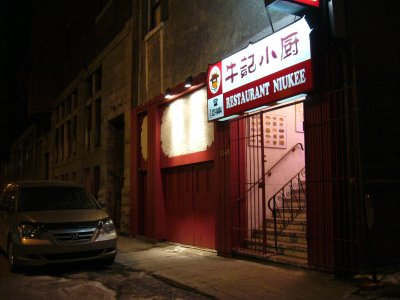 The Chinese restaurant for people who have enough of General Tao chicken (which, incidentally, I had last week), as the Gazette review coins. We sampled a spicy lamb, some kung pao shrimp (sort of sweetish fried sauce with peanuts, peppers and shallots sprinkled in it), and a dish of fried spinach. We were told the chef is from Henan and the lady managing the service was a Beijing opera singer - and are they obviously a couple, per the pictures on framed reviews outside the dining room?
I haven't been to the old location (St-Laurent, a bit south of De La Gauchetière), but the new one (on Clark, but north of René-Lévesque) is what you can describe as 'cozy'. The ceiling seemed lower, the walls closer, the tables tighter - but it's all good to me (why does its interior make me think of restaurants in Korea/Japan - probably Asia in general?). And it was the food that was we came for. I'm not sure if I can myself appreciate the difference, after complaining that Montreal was a town endowed with Cantonese, Sichuanese, and Cantonese and Sichuanese food, basically. Was it the peppers? Was it some sort of crunchy spice they fry the spinach with? (Maybe the garlic was just not cooked enough :P)
Some items of the menu were marked Szechuanese - I am not even sure what Henan cuisine is to be able to tell if it was really Henan-ese cuisine that we had. (I remember that there used to be a restaurant called "Hunan" on St-Laurent - it's either still there, or replaced by a Vietnamese restaurant, like everything else in Chinatown: pho soup pays rent so much more easily XD;; Anyways, Hunan is not even remotely bordering Henan - I'm mixing it up - Henan makes good ham I think.) In any case, I hail the diversity of Chinese foods. *shakes fish*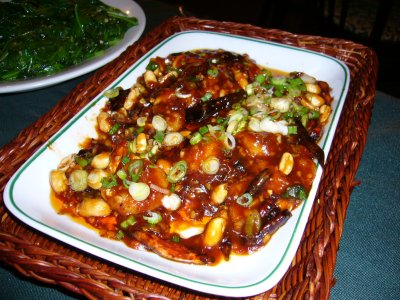 The shrimp were good - at first reluctant to order shrimp, b/c in a Chinese restaurant, it stays in my mental book that it will invariably be dry. With that sort of sauce, it can be anything but dry. It actually reminds me of something I ate at the Nam Pak Lao (sorry, this OS doesn't have a Chinese IME) in Causeway Bay, which serves something like the Kung Pao shrimp (maybe it *was* Kung Pao shrimp - although I remember that Nam Pak Lao as serving Beijing food? - but with a twist of a stunt. It has the shrimp on a hot iron plate, then the guests are invited to hold their table napkin open in front of them - as to shield from the sizzling sweet and spicy sauce as it is being cast on the iron dish. This shrimp was less exciting, still 'good', but it didn't please my mood for light food in that case, one should have jiao zi, which Niu Kee also had on the menu).