5 ans de Bande À Part @ Spectrum (2006/03/24)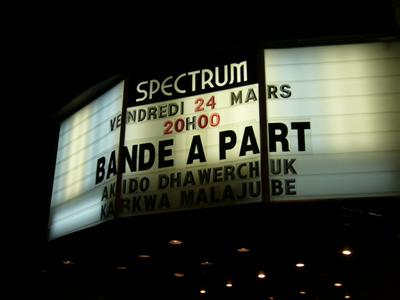 Bande à part used to be a show on Radio-Canada's Radio One, once a week on Fridays, for quite a while, until they went once a day (recorded version) last year, I think, and then went to become a full-fledged satellite radio station alongside CBC's Radio Three.
So tonight, to celebrate their 5th, they reunited some of the most hyped performers of Quebec's indie scene... a strange mistake I make is to put them all (except aKido, 'cause it's electronica - and I keep being dissapointed that he uses this same trademark musical "twist" in each and every song - but a trademark is a trademark, what can you do?) in the same mental basket, that of "whatever Quebec rock bands". So now, after spending four hours of my life with them right under my nose, I can say that Karkwa is a depressing (in the vein-cutting sense) alternative rock band with a lead singer who sounds like Marc Déry of Zébulon (an equally notorious band of my teen years), the Dales Hawerchuk (having really negociated their band's name with the former NHL star of same name) are very very loud, and Malajube was the act many people came to see.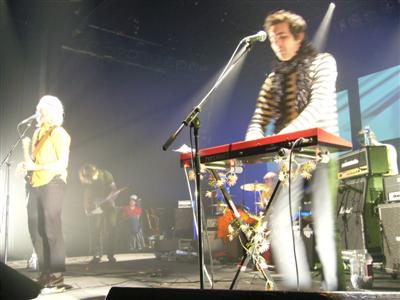 Malajube says they're "Progressive, Emo and Jam", but I could've said it sounds familiar, like reggae, like surf punk... but not quite - I probably mean this sort of happy upbeat instrumental sound. I don't know. I'm not a music critic. On the other hand, I think that having a single entitled Montréal -40 (music video) helps selling. *g*
Unfortunately, anything the performers sang went down the drain of poor elocution. The crowd was incredibly young (such that Danica and myself felt like old farts). So those are the other people listening to bandeapart.fm? Anyways, they reminded me of the hipster kids who hung out at the newspaper office during cegep. In time, just everything makes sense.
Those bands are unfortunately not close to being favourite bands. They're just quite okay, making quite good music I wouldn't rush out to buy. I might be bored with the rock scene. What I tend to listen to on bandeapart.fm anyways is their electronica selection, which also sometimes comes up with this weird experimental 15-minute track from artist with 10-word name.