Trouble in Disneyland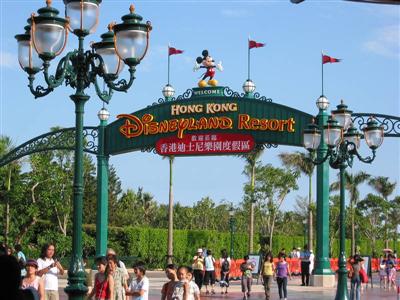 Yeah, I don't know what's wrong with Disneyland HK. First, it was the announcement of a Disneyland in Shanghai (in like ten years, but still), before Disneyland HK was even close to be finished.
Then, last spring, when it was just a few months to opening date, came along the shark's fin drama. It wasn't so much that Disney was particularly evil b/c it served shark's fin soup at its hotel facilities; it's in fact a common thing to do in China (at least South China, 'cause, you know, it's such a large country that you can't assume what they do in your ancestors' region of origin that it's true for the rest of the country!), and if you're a HK hotel into the banquet industry, you can't afford not to serve shark's fin (customers potentially losing face == you not potentially getting their customership). Eventually, Disney backed off, probably after lots of focus group meetings, and banned shark's fin from the menu, not without trying to prance around with proposals such as getting shark's fins from "sustainable sources" (so, I remember this cartoon by Harry in the SCMP where Baby Shark comes back home with his dorsal sawed off, and Mommy Shark lecturing him not to play with the kids from the sustainable shoal - Mickey Mouse scuba-ing away with fins in hand).
It's not that the cause was unjust to defend - in fact, the way sharks have their fin sawed off and left adrift b/c shark's meat is teh suck (at least not the kind of shark I had the immense pleasure to eat at some Indian Ocean island food place XD), but Disney makes for the most excellent media attention-grabber evar. But that, everyone knew it.
Anyways, even more bad news (even stuff that I forgot about) from HK Disneyland, which would probably not help them recuperate of their faltering image in the HK press... Pitiful. The park is co-owned by the HK govt, and if the management keeps screwing up, it's the HK people who'll end up mopping up...