Crapz0r weather calls for random pic
Looks like we're having a house party, but no, it's instead the representation of North American lifestyle gone totally bad.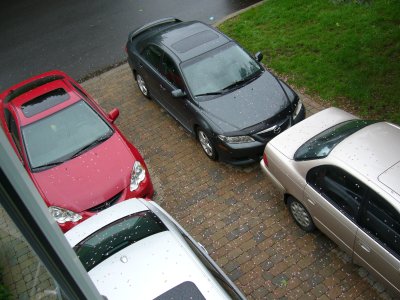 Not shown in pic is a fifth car parked on the street belonging to the renovations' guy. My brother bought a second-hand end-of-lease red Acura. I get to have his old car (bottom-right), Toyota 1993, which used to be my mother's (who drove it only sporadically) and was then taken over by my dad 2-3 years ago for city-driving, and ultimately went to my brother at the end of last summer (who, says my mother -I paraphrase- treated it like crap). Anyways, it's mine, yet I can't drive it. Ouch, the irony.
[Current music: At17 - 你有自己一套]