at17 in Montreal on October 28th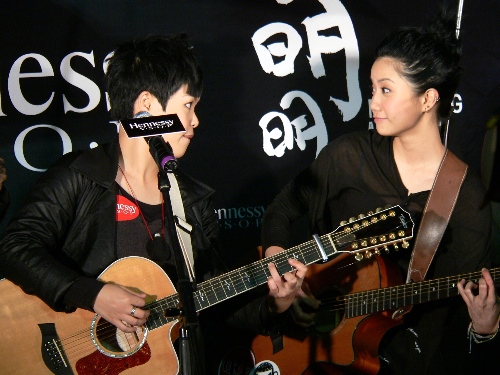 Here at Smurfmatic, we ruled out the possibility of Cantopop stars ever coming to Montreal (although, when one mentions Montreal, it is always always associated with Brossard-native Christy Chung), even if my childhood memories recall some of them showing up in Place des Arts for occasional concerts.
So, perhaps to renew my confidence in Montreal as a world city, it was announced last week that the special guest to a Montreal Chinese singing contest would be at17, a Cantopop girl duo, whose music deviate (just a little) from the mainstream mold of other popular singers, and are in my mind, bordering on the indie (they write their own stuff), very popular with a certain teenager crowd.
The concert will be on Sunday, October 28th, 2007, at the Club Soda. The tickets are 40$ apiece - for a singing contest (b/c the Montreal Chinese beauty pageant - whatever they call it - fetches way above 100$), it is a lot of money, but if it's to breathe the same air as Hong Kong music personalities (they are big on promoting environmental awareness in the Greater China), then it changes everything!
At17, on Sunday, October 28th, 2007, at the Club Soda. (And also, I know where to get tickets, so just e-mail me! cedricsam@gmail.com)