Tokyo Nights
I have to make it quick, because Tante Ghyslaine needs the computer.
In short, I went for a walk in Harajuku. Didn't find the Totoro shop but the ride was more than enriching. So much life in such little place. And young too. So you're in Harajuku either because you're younger than 25, or a tourist. :D
(To whom it concerns: there's a Totoro shop in two places, according to the Internet. One in Harajuku, and the other in ... Kamakura! - For the note, I've been planning to go to Kamakura anyways. So tomorrow morning, if I can wake up early enough, I'm visiting the Tsukiji fish market (because I'm a sushi sucker, and will hug a frozen tuna anytime), and then Kamakura by Shin to Yoko, and then a local to Kama. Good, I'm already starting to reduce my words like the Japanese - after starting to mumble random "Hai"s and "Eto/Ano". Anyways).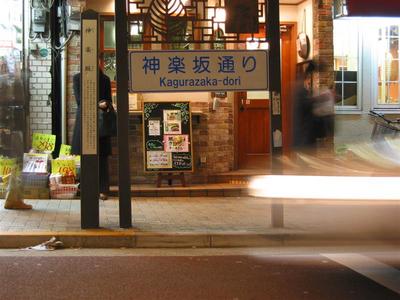 Near Iidabashi is a commercial street, like many others, except that this neighborhood is one of French expats, and so the street actually has a few French specialties with an address on it. True creperie bretonne too. :D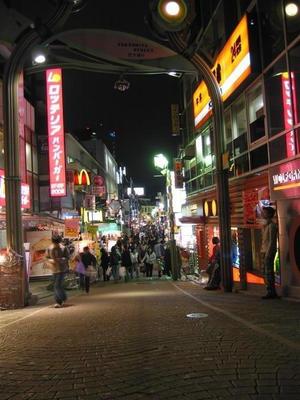 Small crowded merchant street straight ahead from the alternate exit to the Harajuku JR station. Young people, and Japanese hip-hop or heavy metal blasting away at you.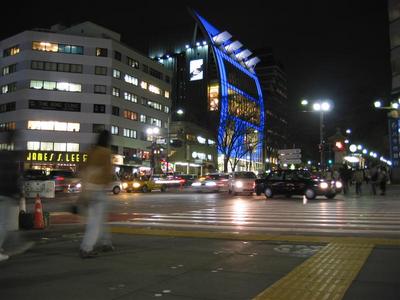 I should've taken more pics of Harajuku... But I already felt extremely weird with my tripod and "conventional" outfit. This *is* Harajuku, after all. This was taken on the corner of Omotesando and Meiji Dori. Further East, the Omotesando portion competes quite nicely with Ginza in terms of posh chic (as a younger Ginza as well).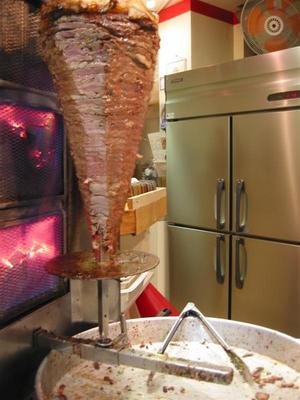 I joke you not. This is Lebanese food! The place is located on Meiji Dori, north-west side of street, and a bit north from Omotesando. And it's called "Kebab Box J".