Photos of everything in between Nagasaki and Tokyo (continued)
So, tonight in Akasaka, chic neighborhood south of the Center of Tokyo (if it was the Imperial Palace - I'm sure it is), eating sushi, and such delicacies.
Continued pics. The computer is in the guestroom, and the guestroom is now occupied by my hosts' guests from France, while I sleep in the younger one's (Paul) room.
Now, on my 6-day trip/tornado-ing around Japan.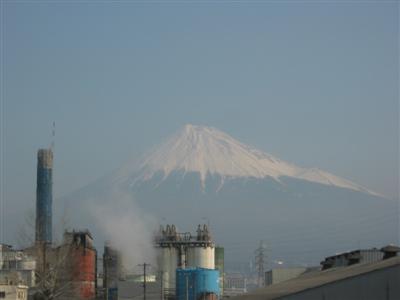 The venerable Mount Fuji. Kind of romantic that the nicest pic I have of Fuji-san has those chimneys in the foreground. Took this unboard the Shinkansen, going to Shin-Osaka from Tokyo. Was sitting next to an Indian-born economist who studied and lived in the States, and who was travelling with his family in Japan. Kept switching seats for the Fuji picture taking, etc. Great tourist in Japan moment. I should've kept track of who had the Lonely Planet Japan among the people I met.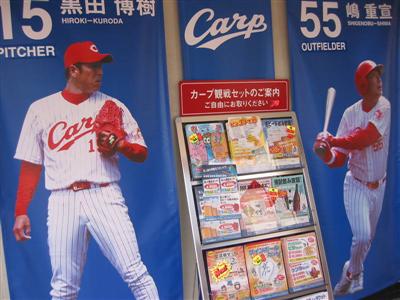 I followed the Carp games religiously in the next few days, as they were visiting the Giants in Tokyo for their debut series of the season. Once in the hotel room in Fukuoka-Hakata, as described in the previous entry, and then at the Shin-Osaka YH, with a handful of Hiroshima natives travelling to Kansai. The Giants are really a team to hate. They've got the Japanese Barry Bonds, and his name is Kiyohara, but he can't run, apparently.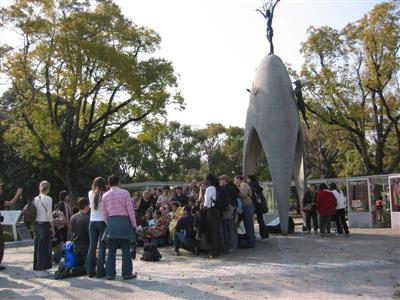 Atomic Bomb park. Lots of foreigners, as the picture shows. A very nicely done memorial, gives the chills, as it was the exact same spot directly above where the Atomic Bomb exploded (which went on to completely destroy the area 1 or 2 kilometers around it).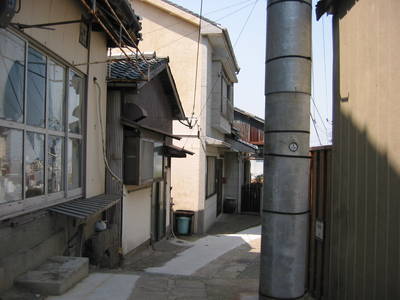 Got lost in Nagasaki. It's a shame I didn't take more pictures of the area I got "lost" in. Was one of the highlights of this trip. I wanted to get lost somewhere. It's a great feeling. Like being stuck in some sort of movie set on a sunny afternoon after school. Kids playing hide and seek. Passerbys carrying groceries back to their home. People selling food in place up the hill where nobody ever walks about.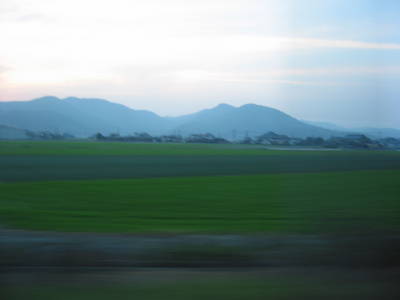 Most beautiful views of Japan in my head are rice fields in the summer. Not quite summer yet, but April in Kyushu, is June in the rest of Japan. Taken at dusk, while on the train back to Hakata from Nagasaki.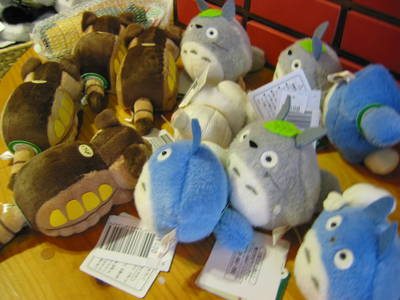 Found a sort of Totoro shop, within a souvenirs/Hello Kitty shop on the hillside road going down Grover Garden in Nagasaki (the Westerners' settlement in South East Nagasaki, beyond the Dutch slope).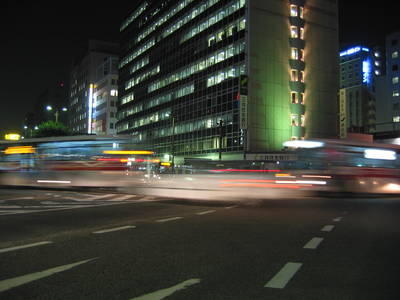 Nights in Hakata. I thought I would've had time to see downtown Fukuoka-Hakata, the "Tenjin" neighborhood, or that Canal City shopping mall. Instead, went to Kinko's to get ripped off for 1260 yens for an hour of Internet. >_>
(The rest tomorrow, because the guests want to sleep)