Photos of everything in between Nagasaki and Tokyo (continued bis)
Finally in HK... And I must have 30 minutes to wrap up the overview of Japan. Got bookfulls of things to say about Japan (in my head). A striking thing is how much more of an advertisement jungle Tokyo is. It felt extremely good to be in Hong Kong, a burst of joy on the bus from Chek Lap Kok to Causeway Bay (with my nose into Bacterial Pathogenesis, however :D).
I'll try to introduce the portion between Osaka and Nagoya, and then the last two days in Tokyo...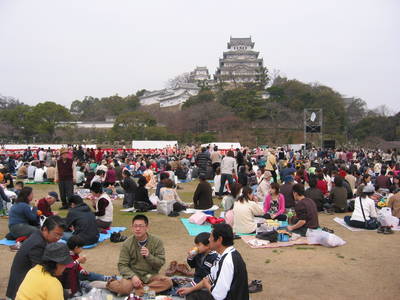 The castle of Himeji. It was the start of the sakura season, as the blooming was starting. Not quite there yet, but I think people still take it as a start signal for the ensuing weeks of drunken debauchery (in public). This was a rather benign picnic party on the grounds in front of the castle, main attraction of Himeji. Was just stopping there for 3 hours, on my way to Osaka, as there's a Shinkansen station 15 minutes away from the castle.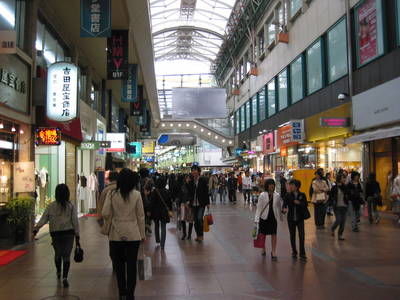 Next, I saw Kobe, another rather boring city, also because I missed the 1995 Earthquake memorials for having checked my travel guide as I disembarked from Shin-Kobe... I did a bit of shopping, and nonetheless walked through the whole city, from Shin-Kobe to Kobe station, on the Kobe line towards Osaka and Kyoto...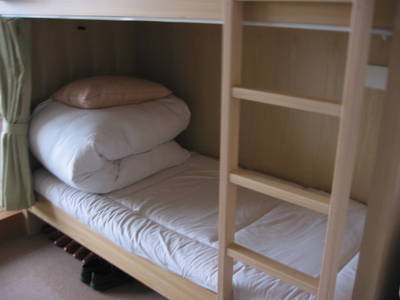 For 3000 yens or so, the youth hostel near Shin-Osaka (not to confound with the original one nearer to Kansai Airport, south of the city) is really teh shit. It was built in 2004, and everything is brand new, and if you have a JR pass, then you're in business.

Japan is big on recycling, because of its dependence on energy. You won't find trash cans in the street, like in Canada, US or Europe. So have deep pockets! Until you find a recycle bin...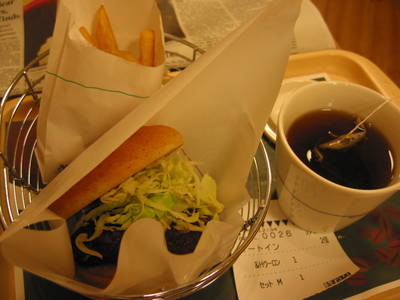 The Japanese alternative to McDonald's. Kind of good, expensive, but still not that more expensive than the Golden Arches. I had a pork cutlet I think... Could've been gone more exotic, like with a shrimp burger (for about the same price), or a burger served with avocados... yum. Maybe there are Mos Burger in HK. There are Yoshinoyas in any case. :D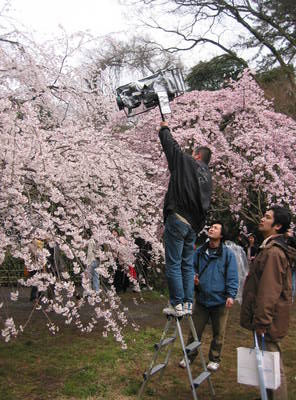 Japanese are crazy about sakuras. Think that for each series of photoos I take with sakuras in them, the locals do the same with their mobile phones... Rest of Kyoto in the afternoon, as I spent time at the Imperial Palace (did not go to the mountains in the East, and apparently missing on the most typical of Kyoto... I suck so much).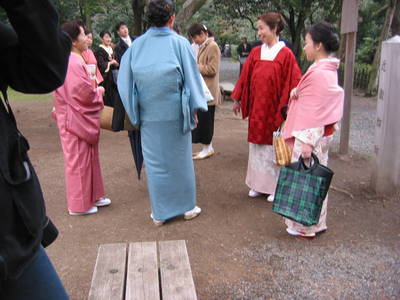 Women in kimono are not that uncommon (you see them in the subway, the street too). Rebates are given to people who wear kimonos in some gardens.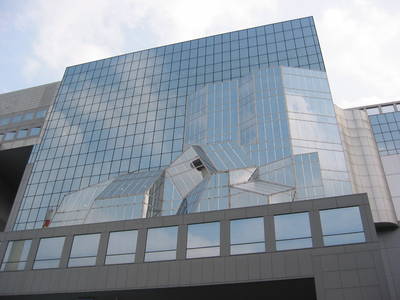 Not all of Kyoto is old. Like any major city, it's got its 21st century buildings.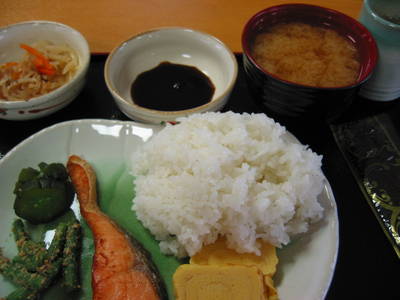 The Japanese breakfast is served with rice, and usually contains a portion of cooled fish. Traditionally, the Chinese do the same thing, must be what you do with leftovers (the rice becomes congee, sometimes).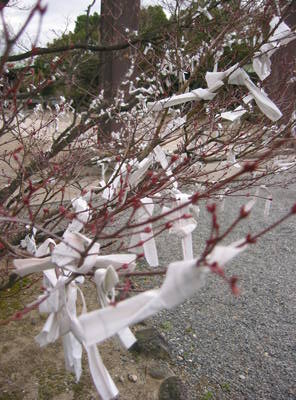 People attach good wished to trees. This was taken in the morning at Osaka Castle, a concrete re-rendition in the 1920-30s of the original castle destroyed a few centuries back.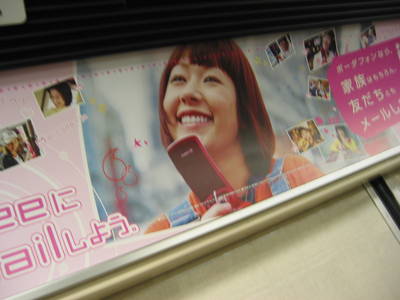 Attack of the annoying ad. I ended up buying the girl's (I think it was Kimura Kaela) latest single at HMV the day before leaving... Nonetheless, Vodafone isn't the most popular (tante Ghyslaine has one, but I guess it's b/c of the European connection), as NTT Docomo leads the market, followed by KDDI (the logo is similar to PCCW in HK... are they related?).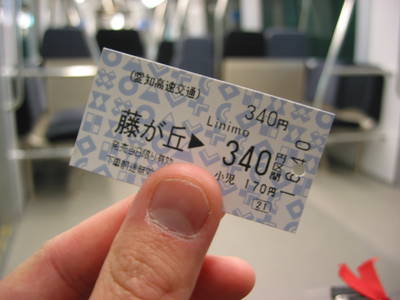 A Linimo ticket... It's expensive... :(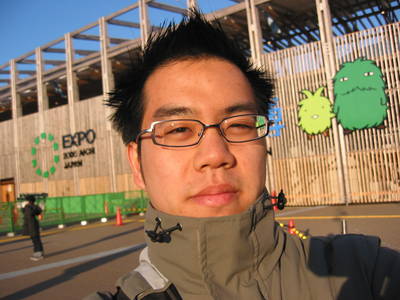 That's me. I've become better with taking pictures of myself. First day/evening at the Expo.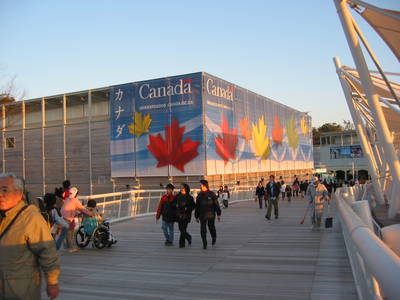 The Canada pavillon was kinda a no-show since I was Canadian... I didn't go see the other national pavillons (except the UN's, right across Canada's).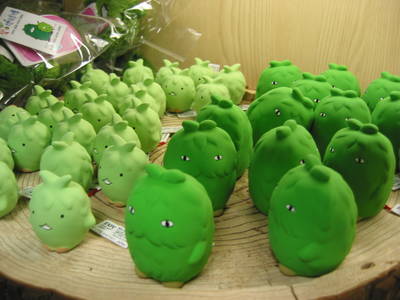 They'd sell their mother... Anyways, make for cute souvenirs. :D
Second Day at the Expo (2005/04/05):
First Half and Second Half.
Once again out of time... There are only the two last days in Tokyo to speak about. I got off at Akihabara on my way to Tante Ghyslaine's from Tokyo station. Went sushi in Akasaka with her later that evening. On Thursday I also went to Mitaka, a suburb 20 minutes west of Tokyo, and the Ghibli museum there. But of course, what I really want to show are the sakuras, which are in the temp directory until I've time to separate them from the airport pics...