Photos of Tokyo (Wednesday 2005-04-06)
Last few days were spent in Tokyo. On my way back to Iidabashi, stopped in Akihabara (station where you change from the Yamanote line to the Sobu line). And the Thursday (2005-04-07) I went to Mitaka, a suburb to the West of Tokyo, 20 minutes on the Rapid service Chuo Line from Yotsuya via Shinjuku. Then on Friday, I went to Shinjuku Goen, a 10 minutes walk northwest from the Sendagaya on the Sobu JR local train line.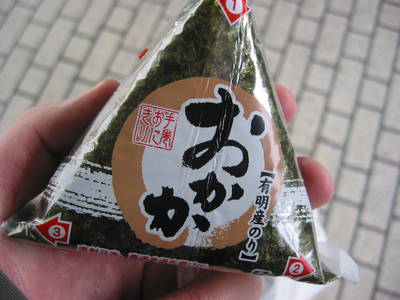 These are called nigiri, and they're basically rice balls with something in them. Convenience stores has them as an unexpensive snack, as an alternative of the sandwich (which is pricier, and not necessarily tastier) for about 100-150 a pop, depending on the filling. But because I can't read hiragana, and can make out that much of the kanji, every nigiri was a surprise. And forget about colour coding, there are many companies making them in each different city...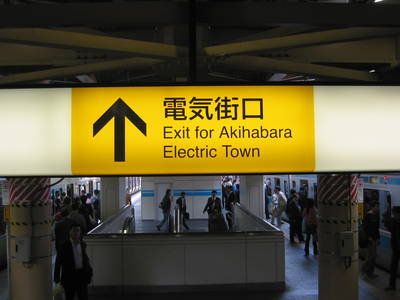 Electric town is where you traditionally found the newest/cheapest wares in electronics and computers in Japan, but the market has declined ever since, according to word of mouth. But it still maintains its reputation (although I was told you should go to Bic Camera electronics stores for the best prices in the market - largest of which is in Ginza, near the Yuracucho JR station). A few pics taken first around Yuracucho, and then in Akihabara, and Iidabashi and surroundings.

Akihabara outside JR station. Mirror of a pic I took in 2002 at dusk.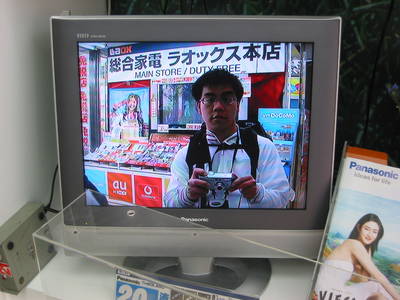 Summum of the self-pic. I don't even know why my camera was facing down like this... But I'm certainly a natural. :D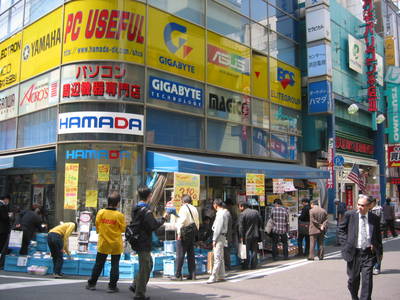 Akihabara shops, around the corner from the station.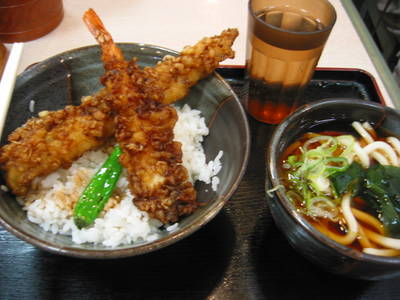 I believe it should be called a tempura-don, with udons on the side in some bonito/MSG broth.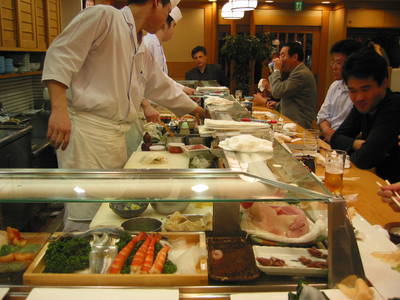 Sushi in Akasaka. Wasn't so more expensive than Montreal... Sushi is still an expensive meal to have (3000-4000yens), compared to the usual noodles/rice bowl (400-800yens).