Hong Kong (first week)
I decided to put on the brakes for pics-taking. After all, I *am* hoping to live here. And if not, I've like a month and a half to explore HK. For now, nothing new has been visited, except a new shopping complex in Kowloon, four or five MTR stations away from my uncle's place, where we went on Saturday evening. The rest is business as usual: Causeway Bay (chic popular district on HK Island), Mong Kok (crowded cheap deals and red-light district in Kowloon) and Teung Kwan O (residential area in the New Territories where my uncle resides).
I'm going to Macau with Juliette on Thursday. We looked at tours, and it seems like the 華東 (Shanghai, Hangzhou, Suzhou, Wuzi and Nanjing) will end up being our choice, as it's only 1400HKD, roughly a bit more than 200$, including the airline ticket, but not the tour guide's tips/salary and various spendings - 5 nights, 6 days. It's really the shit. But no possibility of staying behind. I'm likely going to take a Guilin (with Xi'an perhaps) tour by myself. And then probably a standalone trip to Beijing.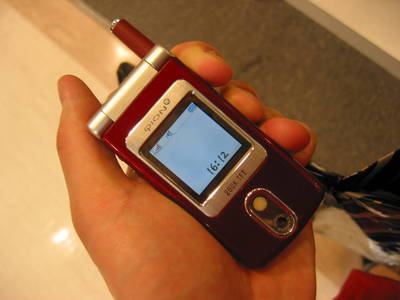 My cellphone in HK, which is quite an upgrade from the monochrome Nokia I had three years back. A Korean brand, Pion, but there are some simple things that are lousy to do with it, like speed dialing, or customizing ringtones. Better than my monochromatic Samsung, so I'm not actually complaining. Call me, it's just still going to be approx 5 cents a minute (it uses Sunday pre-paid cards).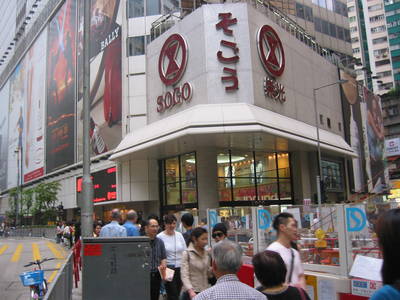 One of the most expensive advertising spots in HK. But I had the impression it was more glamourous three years ago. Anyways. Everything seemed more glamourous anyways.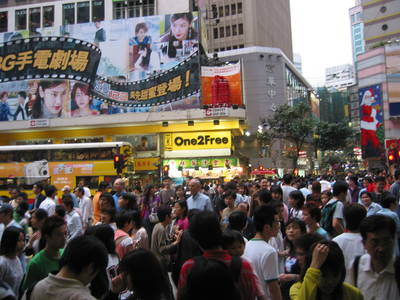 From the same spot, taking accross the street, as the pedestrian light turns green (but on other smaller intersections, Hongkongers rarely give a damn about traffic lights - unlike Tokyoites, despite the same sort of penalties I believe).
0 TrackBacks
Listed below are links to blogs that reference this entry: Hong Kong (first week).
TrackBack URL for this entry: https://smurfmatic.net/cgi-bin/movabletype/mt-tb.cgi/355