The price of cultural difference (or a discussion of my eating habits in HK)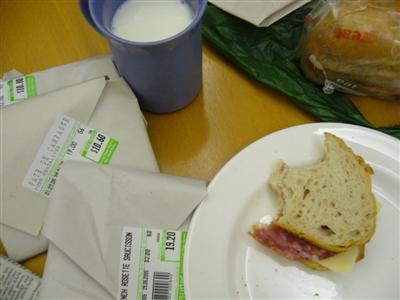 When I miss home, I go to City Super. One time, I went home with three pieces of swordfish to cook for my "adoptive" family, which set me back for around 120HKD (20CAD). The time before, I craved for food we didn't even have at home, the U-shaped French saucisse sèche (80HKD/12CAD) (and with it, a freshly baked baguette (15-20HKD/2-3CAD)). Which is fine, because the saucisse lasted for a whole month (which never happens at home), and the baguette almost as good as the one we get in Canada.
My dinner tonight was a bright idea I had that wasn't so bright after all. I bought a half-loaf of "pain paysan" (as the label says), which doesn't toast at all, and is probably as authentic as it can get. So in order to finish that, I thought, oh, let's buy some cold meats at the cold cuts counter. So there I go, and spend 10-15 minutes at the counter, as the girl employee in training slices and asks me if the pieces are thin enough. But 22.90HKD (3.70CAD) for two slices of white ham? That beats me. I know it's expensive, but that's at least twice as expensive as in Canada!
The good thing is the saucisse seche, probably a fruit of relaxed import laws, heritage of HK's past (and present?) as a duty-free port (right?), because it isn't even available in Canada, and I'd pay the 12CAD for a taste of it every now and then.
Just downstairs from City Super, still within the Times Square shopping mall in Causeway Bay, there's one of the 200 McDonald's outlet in the territory of the HK SAR.
McDonald's is cheap, with my Canadian salary, thanks to the drop in the value of the US dollar (to which the HKD is pegged to at 7.80 per USD). A combo meal costs between 20 and 25 HKD, that's 3.30 to 4.15 CAD. No GST, wooh.
Food is of course not always as cheap. Competing in the lunchbox market, traditional "siu lap" outlets in Causeway Bay will sell for 28HKD. It's a few dollars more than in other places, 'cause of the rent, but if you take prices at the Maxim's or Cafe de Coral, it's also 26-ish, 35 with the milk tea. Ajisen Ramen (un-Googleable, but it's still the most visible Japanese noodles franchise (and it's HK-based too, despite the name, just like Aji Ichiban)) has noodles in the range of 32-45HKD, not cheap, but plays in the more sophisticated, if Japanese equals sophisticated, often the case with young people here, as much as it is back home.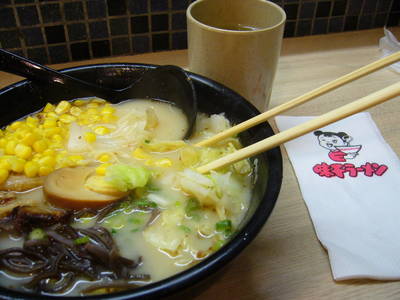 Ajisen Ramen. Corn noodles, with Japanese char-siu, egg and veggies, and side-order of dumplings for approx 40HKD (6.70CAD).

Maxim's Fast-food. Yim Kook Cai (salty baked chicken) set, which comes with the rice, a yummy MSG broth, boiled lettuce and jasmine tea. Trashy Chinese fast-food, I thought to myself, for about 35HKD.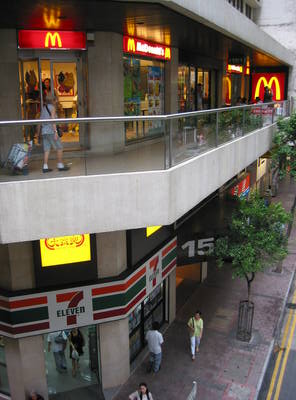 Threesome: a McDonald's stacked over a 7-Eleven over a Cafe de Coral Hmmm.
Tap water is safe to drink in Hong Kong, says Wikitravel, but my habits have been changed, I take fun in boiling the day's portion of water. >_> Funny, but that's how the rest of the world population lives (if they can find potentially drinkable water at all).