Some pictures of Egypt [Part Two: On Lake Nasser, July 22-25]
The highlight of the second cruise (July 22-25) was the ship we were on, the M/S Eugenie, named after Empress Eugenie of the French (and one of my favourite female names - b/c 19th Century aristocratic names are all sort of in again, right?). It was decorated in this really-19th Century English Nile cruise boat, complete with its hard-wood lounge, and tea time at 5PM every day.
The ship navigated Lake Nasser, between the city of Aswan in Upper Egypt, where the Monte Carlo left us, from the pier behind the high dam, all the way to the Abu-Simbel archeological site. Abu-Simbel itself is not at its original location, but moved uphill following the construction of the high dam, which flooded essentially all inhabitable lands upstream of Aswan, to create Lake Nasser (in honour of Egypt's first modern time ruler).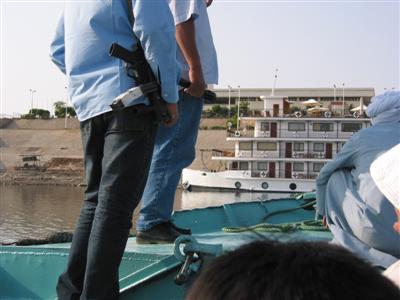 More tight security, even if the prospect of a terrorist attack there are sort of dim. (We were just given news about the Sharm-el-Sheikh attacks in the afternoon only, being right in the middle of nowhere sans communication means)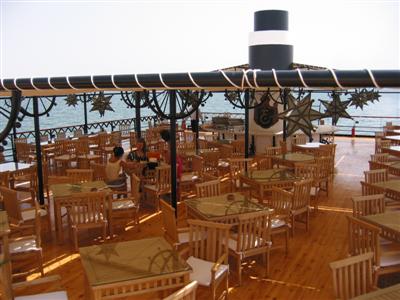 Upper deck of the M/S Eugenie (and my aunt Ellen talking with some strangers).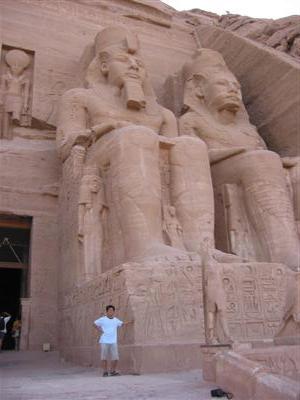 Me and the right side of Abu-Simbel (whose front consists of four statues of Pharaoh Ramses II, probably one of the biggest egos mankind ever knew (he fathered 164!!)).