Newspaper Review
To me, the biggest news this morning is Japan's Upper House vote against the privatization of Japan Post, that big behomoth keeping the equivalent of 3 fucking trillion US dollars in assets. I don't know anything in economics, but I understand it's meant to protect election money, and a sign of holding on to old institutions. Unlike in most countries I'm used to, Japan's postal system also sells insurance and offers financial services. In fact, a post office in Japan looks more like a sort of bank / government welfare office (in that it's not necessarily all well-decorated, at least not those I've been to, like I've come to expect from banks), than your regular post office which deals only with sending letters and packets to the right people.
In some more fantastic manner, I see it as a turning point of Japan's decline, versus, say, China's rise. Maybe it will create a backlash towards reform, if the LDP are set to lose the upcoming elections. (more on BBC)
Anyways, I always read my news from the SCMP. In Friday's edition...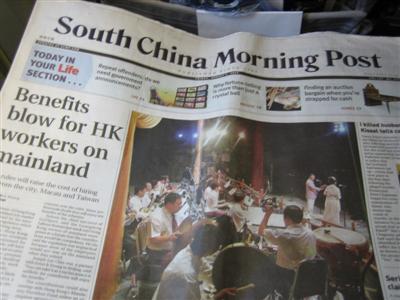 Hong Kong residents seeking to work in the mainland and their employers would have to pay extra taxes, money for health benefits.

The Kissel case, a weird murder case of a banker-husband who allegedly abused his wife. At first they suspected the Fillipino maid, and then the eyes turned to the wife, who was then said to have had an affair with a Vermont repairman (where the couple had a house). On top of abusing wife, the banker-husband was said to be a drug addict, sexual delinquant. Passioned the HK public for months.

Harry's View, one of the Post's caricaturists, and my favourite of them all (3 or 4 four of them, splitting the job of illustrating the editorial page), as being the most caustic, with its depiction of a chicken-teeth HK Chief Executive Donald Tsang with a bigger-than-his-head trademark bowtie, the Central government represented as some mean-looking pandas, and a Mickey Mouse into the shark's fin commerce. This one talks about Mr Tsang's controversial decision to send HK ministers to Beijing, and the frontpage about a rise in health-related costs for HK workers on the Mainland. Just like during Tung Chee Hwa's tenure, the current HK CE is seen as Beijing's lackey, even after working many years as a highly-placed public servant for the British Colonial Government.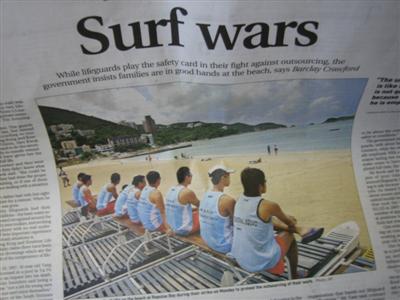 I went to the beach on Thursday last week (and sent most of you a postcard from there), but that week was marked by a strike by the lifeguard corps, to protest against the government's intention to outsource their jobs to what the government lifeguards see as under-qualified personnel. Laurent pointed out to me that HK beaches, facilities are free, whereas ours in Montreal aren't (I would've never known, for not having been to a beach here since probably half-a-decade). Not to mention how beautifully South-China-sea they can get (no clear water - but still white-ish, albeit artificially gathered, sand). The photo with the article is actually taken in Repulse Bay beach, where I was, arguably the nicest beach in HK, and surely one of the most expensive neighborhoods to live in on the HK SAR territory.
0 TrackBacks
Listed below are links to blogs that reference this entry: Newspaper Review.
TrackBack URL for this entry: https://smurfmatic.net/cgi-bin/movabletype/mt-tb.cgi/335