The HK Dragon Boat Festival in Stanley
Indeed, I am at every local festival nowadays. This was the Dragon Boat festival, which I am particularly fond of b/c of institutionalized gulping of 粽子 (rice dumplings), which, in their salted pork variety (hmmm, pork fat), are my among my favourite foods.
Enough food, and so an account of what I did Saturday the 11th. I took bus 65 bound for Island South, the district comprising some of the richest properties on the territory of HK, and well-known for being one of those places outside of urban areas, and where the locals gather to on weekends and public holidays. Island South has places like Aberdeen ("Little Hong Kong"), Repulse Bay, Shek O, and Stanley. Of course, there's only one road going through the mountains to Aberdeen, Repulse Bay and finally Stanley, from HK's north side (the one facing the Harbour - and HK's traditional city centre). And with the Dragon Boat festival (a Saturday *and* a Public Holiday - since Hongkers, in their collective imagination, consider the weekend to be Sunday only), that means jam well into mid-afternoon, and an hour and a half trip that usually takes 1/4 of that time.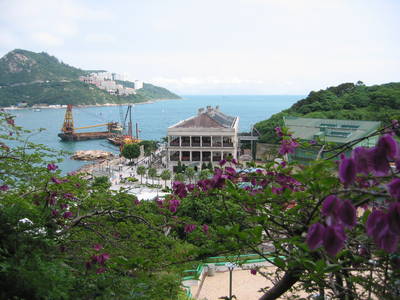 Murray House (down in the middle - that Neo-whatever bldg): this building was originally built in Central, and stood as one of the oldest colonial buildings in HK, until redevelopment (the famed Bank of China Tower took over its spot) had the best of it... The compromise (since some people still have a patrimonial conscience here in HK) was to cut down the building in pieces and transport it to Stanley... The thing is, they lost a few boxes in the process... and found them only a few years ago, and it was rebuilt in 2001 (I saw it when I came in 2002 as well).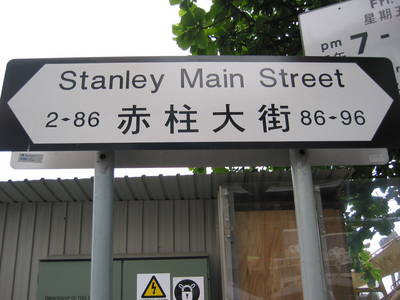 This place swarms with Gweilos! They are paved with bars showing international rugby and the like. Population is extremely British Empire.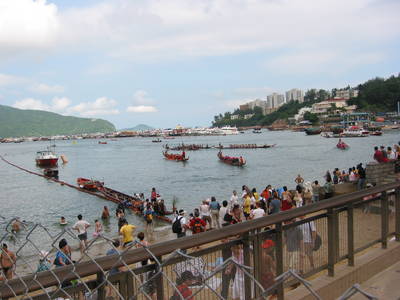 The Stanley Main Beach, to the opposite side of the peninsula where the village of Stanley is.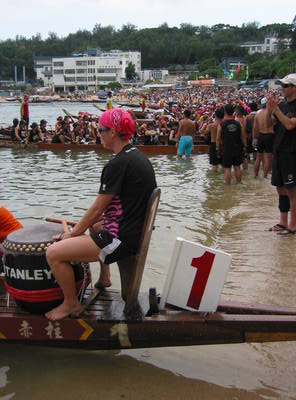 Dragon Boat Festival, what I came for. Was rewarded with this crowded beach!