HK SAR Establishment Day March
The march usually for democracy, but also the National Day of venting-out about just anything.
I didn't mean to participate in the march, really. My aunt said, as I have lunch with her and my cousin, that I already missed the flag-raising ceremony, which commemorates the handover of Hong Kong back to the government currently in power in Beijing. It was by chance that I "bumped into" the march, as I finally decided to get out of the flat at some 4PM, by direct bus 11 to Wan Chai. I noticed that the bus didn't take the usual path through Hennessy Road, but rather passed by Harbour Road (I wanted to enjoy a coffee at the Pacific Coffee in Central Plaza - and get my Economist for free). Walking back down to the heart of Wan Chai, I saw some folks on Hennessy Road waving a Taiwanese flag... Hmm, a march that late in the afternoon?
Totally improvised, but I decided to follow the flow of people. I meant to go to Admiralty anyways (the only competent newspaper stand I know of that had foreign magazines *on time* is in Admiralty - going from Wan Chai to Admiralty is just like walking from McGill to Concordia). There were a few Westerners, including a pair of dudes waving signs that said "one person, one vote, one country", or "democracy equals strength". Along the road, a bit passed Pacific Place and the Lippo Building, a bunch of organizers-like people announced we were only 20,000 people... (Indeed the mood seemed a bit down, with all those black clouds looming, and the lack of critical mass)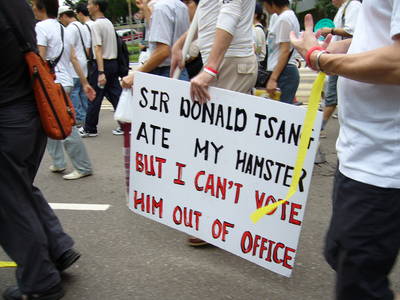 Sir Donald Tsang ate my hamster, but I can't vote him out of office...
One of the most bizarre moments occurred as we hairpinned back up the hill to the end point of the march. I used to follow Hong Kong politics during my high school years, particularly the stories of the last British governor, Chris Patten, and especially, then-leader and founding chairman of the Democratic Party, Martin Lee Chu-Ming. In fact, they were the two people I knew. As we climbed up the hill, this British-looking man smiled at a tall slim-faced Chinese man slightly behind me... He wore a regular white t-shirt with "Voter Express" written in behind (everyone wore white - but I kept my red linen shirt, still celebrating Canada Day (in my head). They exchanged a few words in English, and the Chinese man kept walking, keeping this smile tagged "famous person" all over. "Looks familiar... Can it be who I think it is", as I access the few memories I had of readings done on the middle-age-of-a-Internet that it was pre-1997. Probably, or certainly, when people along the way starting posing with the man.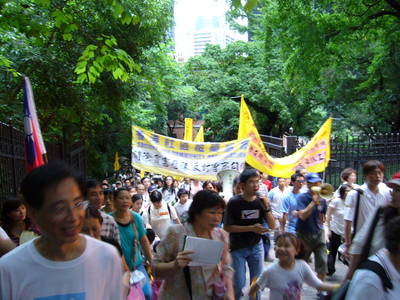 So, is that him in the bottom left corner of your screen? o_O Anyways, enough bizarreness on this trip to make my head go bam.
So I marched up. And that was it, the end of the march. The crowds were brought to the top of that hill, and asked to disperse either down to Admiralty, or Central.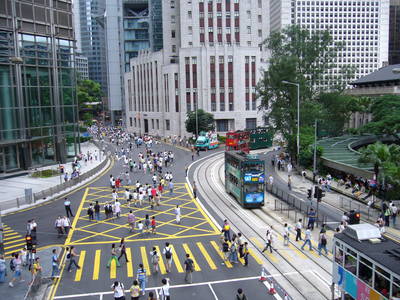 Not even worthy of local news.
0 TrackBacks
Listed below are links to blogs that reference this entry: HK SAR Establishment Day March.
TrackBack URL for this entry: https://smurfmatic.net/cgi-bin/movabletype/mt-tb.cgi/319